I-discover-the-world #1
It's time for an international tour. It's time to share all the good stuff of life's adventure. Business and holiday trips always bring me to lovely places and people. So this month I have been to Portugal. I fall in love with this country. Read and See and Enjoy. 
First stop: Algarve.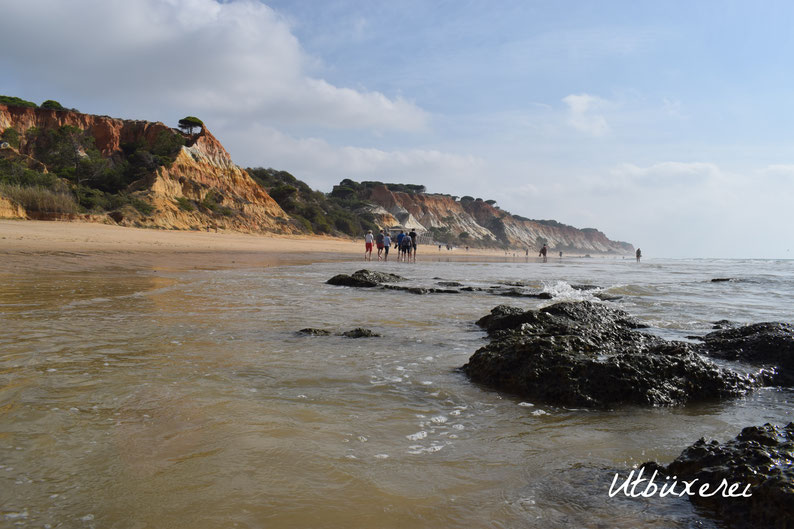 The trip started at Hamburg Helmut Schmidt Airport. 7 days, 7 people, 7 suitcases, 7 happy holidayer. We landed in Faro in the evening, rented a big Mercedes bus and the little portuguese adventure was ready to begin. It was dark and the air smelled like summer in November. We arrived at our hotel in Ohlos de Agua, checked in and had a great dinner buffet. The PortoBay Falésia Hotel seemed to be big but still very charming. We could hear and see the ocean from the balconies of our rooms and woke up through the beautiful sunrays in the morning. No need to say: the water was calling. 
---
Beautiful Bay.
From the hotel we went 132 steps down and were surprised by this awesome beach. Long walks and totally fun times in and by the water made our days. This place was ours and we enjoyed it to the fullest. Especially in the mornings the bay was kind of magical. Sunbathing, walking, discovering fancy shells and stones, having a drink at the beachbar, jumping into the waves - the perfect time out.
---
Loulé.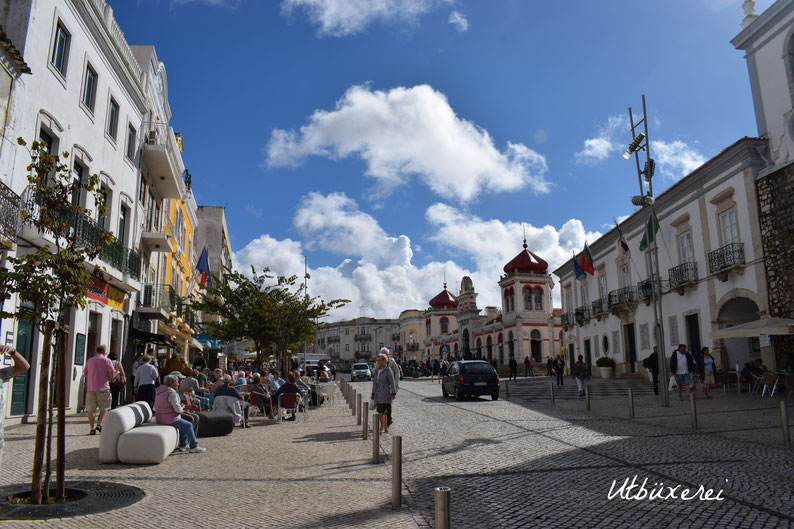 We had the car. We discovered the Algarve. We didn't know, what expected us in Loulé. It was great. The small city with little alleys, an old fortress, a market hall and little potteries and galleries was totally charming. We just walked around and enjoyed the atmosphere. We tried out local food from the market, bought some handmade bowls and saw Loulé from above. The sun was our daily companion. 
---
Fonte Benémola.
After visiting Loulé we read about the "Fonte Benémola" which was supposed to be a cool place for an hour walk through the nature. The route was signposted and there was nothing in our ways except the weather. We've already been walking a kilometer when the portuguese sky gave us a little shower. We wanted nature. We got nature. After a few minutes the rain was over and we went on. A small stream guided us and we felt like being in the jungle. Beautiful views over the valley made the walking tour a lovely experience.
Portugal is wonderful. Here you can see that the Algarve has so much to offer and discover - not only beautiful beaches. The landscape is awesome. This experience at the Fonte Benémola was simple but so good!
---
Cabo de São Vicente.
The wide open sea makes you think about the wildest things. How adventurous and courageous people must have been going on a ship to nowhere now called America...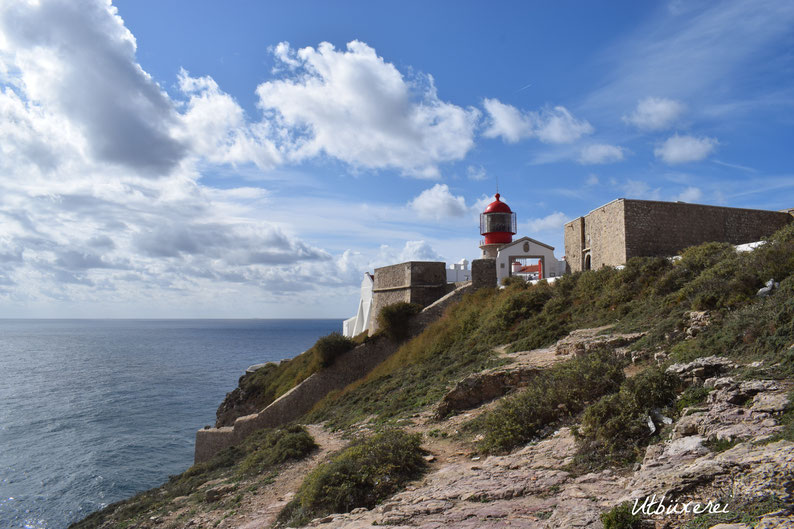 ---
Precious Praia.
Praia do Beliche
Now we reach my favourite part of this Algare Tour: the Praia do Beliche. This place is more than precious. It's lonely. It's lovely. It's nature at its finest vibes.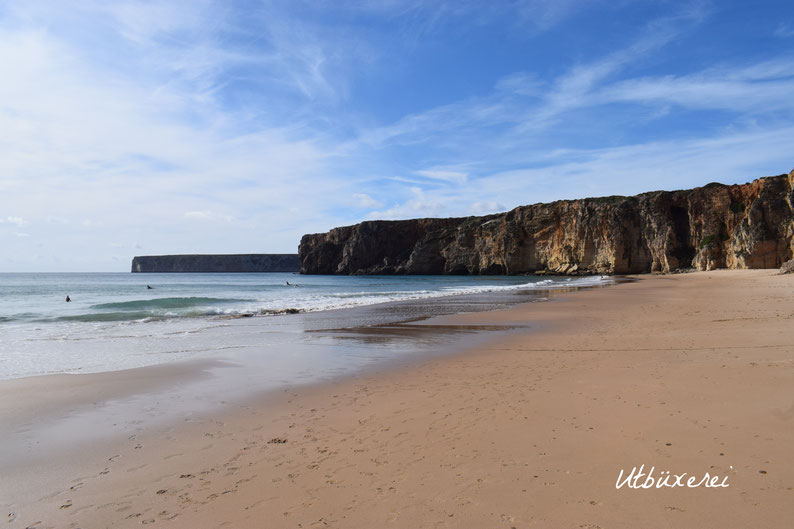 The beach is located close to the lighthouse of Cabo de São Vicente. You cannot see it directly from the streets and have to go down long stairs to reach it. I have been there in November, the water had a comfy temperature and the beach was pretty lonely, but I can't tell how it might be during the summer season. It also seemed a good place to learn surfing. Next time this will be my goal. 
---
Lagos.
Ponta da Piedade
Lagos is another lovley city of the Algarve. The city centre has very charming cafés and alleys and is nice for shopping. I bet women could spend a whole day there - well I could. But before we discovered the centre we went on an awesome boat trip to the grottos. Small boats brought us to the rock formation and caves of Ponta da Piedade. It was epic. Nature is awesome.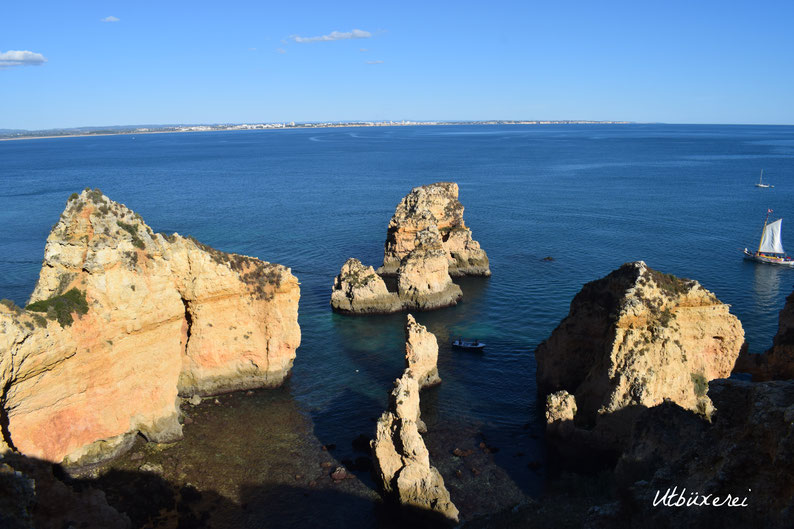 Not only the nature is impressing, also the architecture of Lagos is worth seeing it. Just stroll through the alleys and enjoy the atmosphere. People are very nice and open-minded. We have found the sweetest café ever. The "Bora Café" was so inviting. We spent over an hour there and had a piece of chocolate cake which came from heaven. The love for detail was very present in this place and we could feel the passionate vibes. 
---
Dear Algarve, thank you.
This tour was great. Portugal is such a lovely country. I would love to discover more of it. One week was ok for getting an insight, but the next tour to Algarve has to be longer, for sure. I hope I could inspire you with a few of my words and pictures. Have fun in Portugal!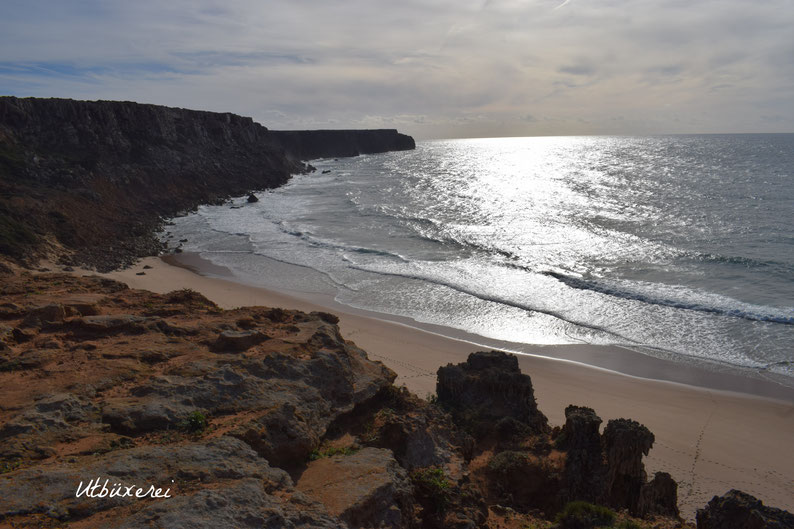 ---